May 27, 2014 Frankfurt Chamber of Commerce

The Chamber of Commerce of Frankfurt am Main, in cooperation with the Delegates of German Industry in Muscat conducted a day-long Oman Business Forum on May 27, 2014.
Business practices in Oman were explained through technical papers from Oman experts, practical examples of successful local entrepreneurs, and panel discussions, together with personal encounters and networking. The forum provided an exceptional opportunity to acquire comprehensive information and first-hand knowledge about the possibility of business engagement in Oman. The event was chaired by the ambassador of the Sultanate of Oman, HE Khaled Ba'Omar and the new Honorary Consul General of Oman in Frankfurt, Prof. Dr. Müller. The high-level delegation from Oman was led by Mr. Faris Al Farsi, GM of Public Authority for Investment Promotion and Export Development (PAIPED), Mr. Yahya Al Zidjali, Vice Chairman, Special Economic Zone Authority at Duqm, and Mr. Hilal Al Hasani, CEO, Public Establishment for Industrial Estates (PEIE).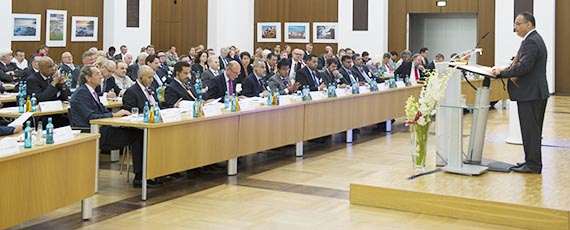 As part of the program the exhibitions "Modern Oman" and "Religious Tolerance in Oman" were on display, giving the more than 150 senior representatives of the German economy a deeper insight into the Sultanate of Oman. Each participant also received a DVD of the film "Religious Tolerance in Oman."

Mr. Dieter Haller, Secretary of the Foreign Office, Head of the Department of Economy and Sustainable Development, emphasized in his speech the importance of religious tolerance in Oman for the safety and sustainability of economic investment in Oman and invited the participants to take advantage of this opportunity to better inform themselves about the unique role of Islam in Oman.