October 27 trough November 25, 2014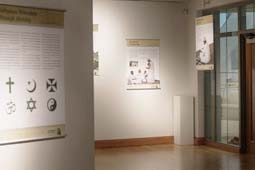 The Ohio University Multicultural Center hosted the exhibit "Religious Tolerance: Tolerance, Understanding, Coexistence, Oman's Message of Islam" at the Multicultural Center Art Gallery, with the opening ceremony held on Nov. 1, 2014.
At the opening reception the Omani Student Association invited Dr. Bashar Kayali to speak. He spoke about the importance of tolerance in a globalized world. The speech was well received. The Omani Student Association handed out bags containing information about Oman. They also provided artifacts for a display case that is in the gallery.
The exhibition was held as part of Ohio University's International Education Week (Nov. 12-16), and in conjunction with the UN's declared "International Day for Tolerance" at which time the university hosted a Tolerance Walk on the actual Day for Tolerance (November 16, 2014). The walk ended at the gallery where a panel discussion about tolerance was held.
Winsome Chunnu-Brayda, Associate Director of the university's Office for Diversity and Inclusion, noted that: "If we were to look in Western media to see what they have to say about the Middle East, we would depict it with oppression of women and violence. This (exhibition) is a counter-narrative to that story."

OU is the first school in the USA to simultaneously have this exhibit with an Omani Students Association at the school. Saif Al Wahaibi, president of the OSA said "I tell people I'm from Oman and people ask me where that is. You never hear anything about us, but Oman is very politically active. We mediate between countries on issues of petroleum business and territory. People will generalize in their perceptions, but we live in one of the calmest, safest countries in the world."

The Omani Students Association at OU has about 65 members from Oman. Many of the members are women, which reflects how well Oman represents tolerance in its own society.
"Women have a lot of opportunities. They hold high positions in the government, and other key positions. The ambassador of Oman in the U.S. is a woman," Al-Wahaibi said. "In terms of scholarships to the West, they are equal when competing for scholarships. At OU last year, most of the people from Oman were girls."
Rashid Al-Saadi, vice president of the Omani Students Association, said the freedoms in Oman and America are synonymous.