October 10 through October 31, 2014

The Kaufman Interfaith Institute was the host of Oman's third exhibition opening in the USA, held in the Pew Idema Library of the Grand Valley State University, adjacent to the city of Grand Rapids, Michigan, the US state with the second largest Arab population, after California.
Attending the opening reception were Dr. Thomas Haas, President of Grand Valley State University; Dr. Douglas Kindschi, Director of the Kaufman Interfaith Institute; Dr. Lee Van Orsdel, Dean of University Libraries; Dr. Mohammed Said Al Mamari, from Oman's Ministry of Religious Endowments and Religious Affairs, and representatives from the Embassy of the Sultanate of Oman in Washington, D.C.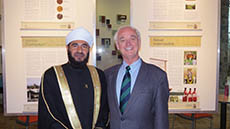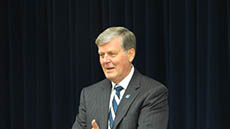 Under the leadership of President Haas, the Grand Valley State University has developed state-of-the-art facilities, a first-rate faculty, and now has more than 25,000 students. The GVSU is devoted to contributing to cultural understanding. The Kaufman Interfaith Institute, affiliated with the GVSU, is commited to facilitate mutual respect and greater interfaith understanding. Its director, Dr. Douglas Kindschi has come to know Oman personally through visits to the Sultanate, and has also collaborated with Professor David Ford, of the Cambridge Interfaith Institute (UK), in promoting inter-religious dialogue.
The Pew Idema Libary, co-host of the exhibition, won the 2012 Award of Excellence in Academic Libraries. Chief Librarian Dr. Lee Van Orsdel, stated that "This exhibition is exactly what we designed this space for: a place where students can step out of their routine, can consider some of the important questions of the world, and -- at the heart of the most important questions in the world -- how to understand each other's deepest beliefs and practices. I believe this exhibition will lead us into more deeply understanding the country of Oman and its membership in the world community and how we can learn from the approaches they take."
In conjunction with the exhibition "Oman's Message of Islam," the Grand Valley State University in Allendale, Michigan, commissioned a series of events to explore the world of Islam, highlighting religion, politics and culture in the modern Arab society of Oman. Following the opening reception and film screening on October 13, 2014, the exhibition hall was used in the days following as a backdrop for a lecture on modern-day Oman by Prof. Sebastian Maisel; a presentation entitled "Interfaith in the Middle East: Rays of Light in Darkness;" an open panel discussion; video conversations with overseas alumni; and other events.

video link to opening reception