November 17 through November 21, 2014

Suffolk Inter-Faith Resource (SIFRE) was pleased to be able to arrange for a visit of the exhibition to Suffolk as part of its activity for National Inter-Faith Week 2014 in the Atrium at Suffolk County Council's headquarters in Endeavour House, Russell Road, Ipswich.
It was opened on Monday November 17th at 12:00, with gratitude expressed by Dr. Abdullah Said Al-Mamari representing Oman's Ministry of Endowments and Religious Affairs. Attending the opening ceremony were Councillor Christopher Hudson, Chairman of Suffolk County Council; Councillor Rebecca Hopfensperger, Cabinet Member responsible for Equalities and Inclusion; and Professor Nabil Sultan, of the University Campus Suffolk. Representatives of Ipswich Borough Council and of the Suffolk Faith Communities were also present.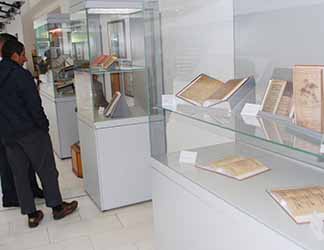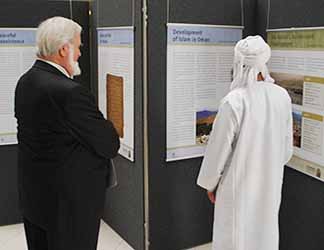 At the opening David Capey, SIFRE Executive Officer said, "We at SIFRE are delighted to be able to facilitate this exhibition in Suffolk. The openhearted ethos of Oman towards all religions and to the followers of those religions resonates with our aspirations for the society we live in. At a time when 'Islamists' are viewed as harsh, cruel and inflexible, it is good to be reminded that Islam is a Way of Tolerance, Coexistence and Understanding."

Councillor Hopfensperger said: "Suffolk County Council is delighted to be working with SIFRE to bring this international exhibition to Endeavour House, Ipswich. Visitors to the exhibition will have an opportunity to learn more about the principles of religious tolerance in Oman. Inter-Faith Week provides an opportunity for people with different beliefs to come together to build greater understanding. I hope that people will take the opportunity to visit the exhibition while it is in Suffolk."
During the week it was on display in Ipswich, the exhibition was seen by many County Council staff and by parties of Ipswich schoolchildren who visited the exhibition. SIFRE created a quiz based around the exhibition to enhance the experience of the children.