November 03 through November 10, 2014
The Mayor of Hinckley and Bosworth Borough Council, Councillor Jeffrey Bannister, opened the exhibition at The Islamic Foundation in Markfield on Tuesday, November 4th, 2014. Entitled "Tolerance, Understanding, Coexistence: Oman's Message of Islam," the exhibition was held in recognition of the UN International Day for Tolerance and showcased the diverse range of religious beliefs held in the Muslim-majority Oman.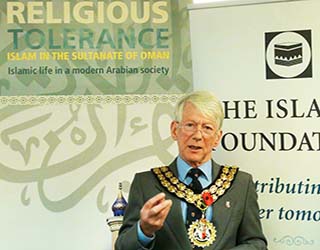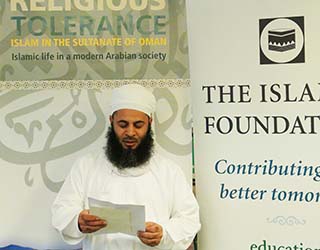 Farooq Murad, Director of the Islamic Foundation said that the theme of the exhibition fits in perfectly with the work of the Islamic Foundation over the last 40 years. Batool Al-Toma of the New Muslims Project highlighted humanity's need to create a community and how the very essence of this community can be seen in Oman through the freedom of spiritual expression.

It was the first visit for the Mayor and his consort, Mayoress Mrs. Tricia Bannister to the Foundation, and the Mayor commented that it is "an asset not just to the Borough of Hinckley and Bosworth, not just to England or the United Kingdom, but it is a fantastic asset for the rest of the world."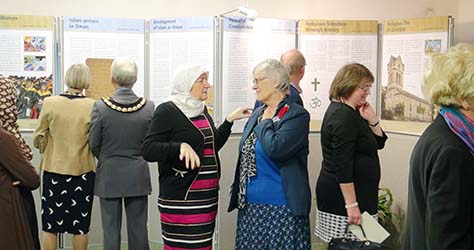 Dr. Abdullah Al-Mamari from The Ministry of Endowments and Religious Affairs in Oman travelled to the UK to be at the opening of the exhibition. He shared a brief history of Islam in Oman and the importance of religious coexistence within the country, and thanked the Islamic Foundation for hosting the exhibition. Dr. Abdullah said in his address: "There is nothing better than to spread messages of peace and goodwill to all people. It is our strong belief that peace and stability only can be realised today in any society through dialogue and understanding."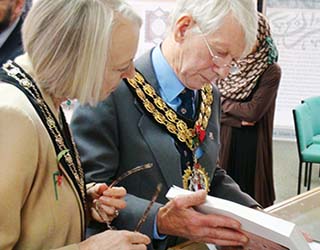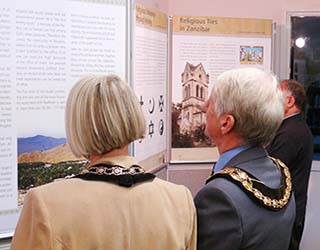 The Islamic Foundation, established in 1973, is a unique and pioneering institution specialising in the fields of research, education and publication. Since its inception the Islamic Foundation has strived towards building bridges between the Muslim community and the rest of society by creating a better understanding between communities through greater awareness about each other.