January 9th through January 18th, 2013


The exhibition opened on January 8, 2013 on the premises of The John XXIII Foundation for Religious Studies, a research library with an extensive collection of nearly 1,000,000 works, making it one of the largest and most important centers for religious studies in Europe. It publishes, educates, serves, organizes, hosts and communicates research in the field of religious studies. The director is Dr. Alberto Melloni, who is also the UNESCO Chairholder in Religious Pluralism and Peace, which was established in 2008 at the University of Bologna. The Chair seeks to deepen the multidisciplinary understanding of religious issues, emphasizing among other things the relevant role of history as a tool to understand diversity and to be able to accept pluralism as a key to human culture.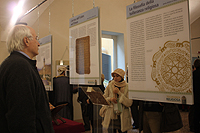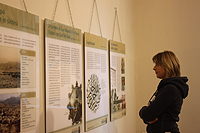 In opening the exhibition, Dr. Melloni praised this initiative of the Sultanate of Oman, and expressed his appreciation to the Ministry of Awqaf and Religious Affairs. The need for interfaith dialogue and mutual understanding is today greater than ever, and the projects conducted in the John XXIII Foundation for Religious Studies contribute to this effort.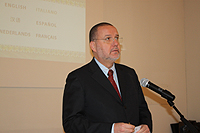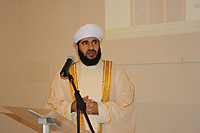 Mohammed Al Mamari, International Programs Director of Oman's MARA succinctly described Oman's historical traditions leading to today's tolerant society, which is open and supportive of other religions. On behalf of the MARA, tokens of appreciation were bestowed upon Dr. Melloni, Mrs. Angelina Alberigo, widow of the Foundation's founder, Dr. Giuseppe Alberigo; and Dr. Annelaura Trombetti, Director of the CISDI (Interdepartmental Centre of Islamic Studies, University of Bologna).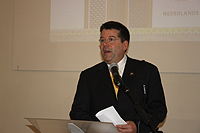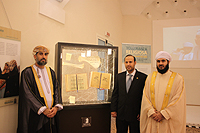 Also in attendance were representatives of city of Bologna and the region of Emilia Romagna; Dr. Massimo Baldini, Political Science Editor of Il Mulino, approx. 75 distinguished guests, and Dr. Saif al Busaidi and Salem al Haddad from Oman.
The University of Bologna is generally considered the first university in the western world. Its history is one of great thinkers in science and the humanities, making it an indispensable point of reference in the panorama of European culture. The University began to take shape in Bologna at the end of the eleventh century, when masters of Grammar, Rhetoric and Logic began to devote themselves to the law. In the nineteenth century a committee of historians, led by Giosuè Carducci, attributed the birth of the University to the year 1088. The term "university" was coined at its creation. Today it is considered a leader in the European university system.