March 2014


Islamabad was the 43rd location for the touring exhibition "Oman's message of Islam" which was commissioned by the Ministry of Religious Endowments and Religious Affairs (MERA) for presentation in various countries around the world. The intent of the exhibition is to share Oman's experience of religious tolerance between the different religions in the country. The exhibition was held in the central library of the international Islamic University in Islamabad.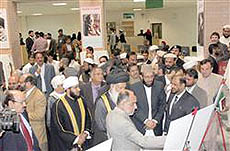 The teaching staff and senior government officials were invited to the exhibition to learn more about Oman. The exhibition as currently presented contains 24 panels, 4 panels more than previously. The visitors learn of the cultural importance of religious tolerance. The documentary film "Religious Tolerance in Oman," produced specifically for the exhibition, was also shown.
Mr. Sardar Mohammed Yusof, Pakistan's Minister of Awqaf and Religious Affairs, opened the exhibition. In his speech he said that the exhibition "will improve the culture of tolerance between people; such activities are very important to reduce the gap between the religions and to correct the misunderstanding of Islam's message created by small groups of Muslims. Islam stands for mercy and mutual coexistence."
Mohammed bin Said Al Mamari, Scientific Advisor to the Minister of MARA and supervisor of foreign exhibitions, thanked the university for embrace the show and pointed to the efforts of the Sultanate of Oman in spreading the values ​​of understanding. He also expressed his thanks to the President of the Senate of Pakistan, esteemed officials and distinguished guests for the honor they conveyed by visiting the exhibition. HE Ambassador Riad Ben Youssef, the Sultanate's ambassador to Pakistan, also bestowed his gratitude on behalf of the government.

OmanTV report

Article Business Recorder (English)