November 24 through November 28, 2014
Suffolk Inter Faith Resource (SIFRE) had been given the opportunity to display the exhibition in Suffolk due to their background in inter-faith dialogue. The exhibition was on display in the Atrium in Endeavour House, Russell Road, Ipswich during Inter-Faith Week, 17th to 21st November, before moving to The Gateway at West Suffolk College in Bury St. Edmunds where it was displayed from 24th to 28th November.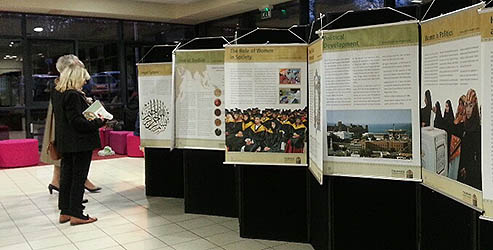 It was opened on Monday by Councillor Patrick Chung, Deputy Mayor of Bury St. Edmunds; and Steve Steeds, Director of Higher Education at West Suffolk College. It was attended by Suffolk County councillors, Bury St. Edmunds Borough councillors and by members of the West Suffolk College Senior Management Team.

While in Bury the exhibition was seen by staff, members of the college and by visiting parties of Bury St. Edmunds school children throughout the week. Doctors from the local hospital visited as well as members of the general public. Some visitors who had lived in Oman or been there on holiday spoke enthusiastically about their own experiences of the country.