July 20 through August 19, 2012

The Sultanate of Oman was one of the focal points of the "Nights of Ramadan 2012" at Berlin's Workshop of Cultures (Werkstatt der Kulturen). For this reason, during the Muslim fasting period, several exhibitions pertaining to Oman are being presented in cooperation with the Embassy of the Sultanate of Oman in Berlin, the Ministry of Endowments and Religious Affairs as well as the Diwan of Royal Court.

The exhibitions are entitled: "Religious Tolerance: Islam in the Sultanate of Oman," "Sultanate of Oman: Modern Living with Tradition" and the photo exhibition "Oman: People & Moments" produced by the photographer Anja Menzel.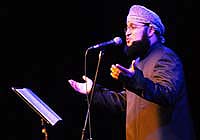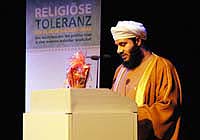 About 150 guests attended the exhibition opening on July 20, 2012, including representatives of several Arab embassies in Berlin. The Omani singer and composer of religious songs, Anwar Al Asmi, gave a concert at the opening event which was enthusiastically received by the audience.

The Secretary-General of the German-Omani Association, Georg Popp, noted in his welcoming speech the very positive response throughout Europe to the exhibition "Religious Tolerance: Islam in Oman," shown in 19 cities previous to its appearance here in Berlin.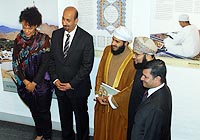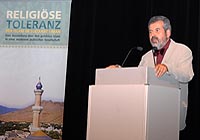 Mr Mohammed Al-Mamari, Scientific Advisor to the Minister for Religious Affairs, emphasized in his speech the importance of interreligious dialogue for a peaceful future. Personal experiences, encounters and friendships across the denominations are crucial.

Following the concert by Anwar Al-Asmi, the Omani Embassy and the Ministry of Endowments and Religious Affairs invited the guests to an Iftar dinner in the café of the Werkstatt der Kulturen.