October 10 through October 12, 2014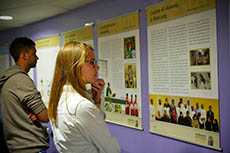 Starting in July 2013 five French students, between 19 and 28 years old, all members of the French national youth interfaith movement "Coexister," – Muslim, atheist, Christian, Jewish and agnostic – traveled around the world, visiting more than 50 countries.
Their goal was to meet people who are involved in interfaith dialogue and who promote coexistence, showing that "it is possible to live together;" and to identify initiatives worldwide which promote interfaith dialogue. The group visited Oman by invitation of the Ministry of Endowments and Religious Affairs.


From October 10 to 12, 2014 about 100 representatives of 20 groups of Coexister in France and Belgium met in Paris for their 6th annual general meeting.
The members of the InterFaith Tour took this opportunity to share their impressions and experiences about Oman last year and to show the video they made documenting their time in Oman, with the exhibition "Oman's Message of Islam" forming the backdrop for the event.

Association Coexister

The Interfaith Tour

The Interfaith Tour in Oman (report and video)