January 10 through February 09, 2014


Haus Nordhelle is the Protestant conference site of the 100 municipalities in the four church districts of southern Westphalia: Iserlohn, Lüdenscheid Plettenberg, Siegen and Wittgenstein.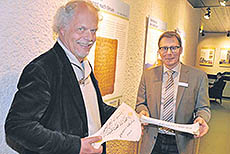 Under its broad roof meetings take place to discuss contemporary issues of life and faith. In this context, the exhibition "Religious Tolerance: Islam in the Sultanate of Oman" was held.

Opening remarks were offered by Mr. Alex Moll, Advisor for Culture of the German-Omani Association, and Mr. Christian Graf, director of pedagogy at Haus Nordhelle. In his speech, Mr. Moll -- who has visited Oman on numerous occasions -- highlighted how the different religions in the country manage to coexist peacefully.

Article (German)