VHS Hof, Germany
November 12, 2010 through November 30, 2010


Ever since the dramatic events in New York, September 2001, the Volkshochschule (VHS) of the Hof district celebrates with a festival of cultures, to promote mutual understanding among peoples from different cultural backgrounds.
The multi-day festival of 2010 with its seminars and presentations opened with the exhibition "Religious Tolerance: Islam in the Sultanate of Oman" and the showing of the documentary film produced by Wolfgang Ettlich, who was himself present. The opening ceremony, attended by approximately 150 guests, was attended by Dr. Fichter, Mayor of the city of Hof; Mrs. Roeher, Regional Coordinator of the Federal Office for Migration and Refugees; Mrs. Hoellering, Deputy Director of the VHS; with the organizer of the exhibition; Mr. Georg Popp, representing the Ministry of Endowments and Religious Affairs in Muscat.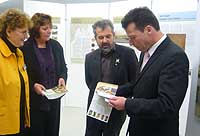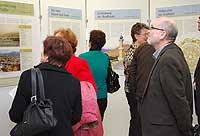 Mrs. Roeher of the Federal Office for Migration and Refugees had this to say about the exhibition: "I consider the exhibition and film to be very educational, and I liked them both very much. I was very pleased to see a positive side of Islam presented. ... One of my colleagues was in Oman many times and found it to be just as it is presented here. I wish you great success."
Article Frankenpost (pdf) (Deutsch)