University Rovira i Virgili, Tarragona, Spain
October 3 through October 21, 2011


The exhibition "Religious Tolerance: Islam in the Sultanate of Oman" was displayed for the fist time in Spain at the University Rovira i Virgili at Tarragona. The exhibition was presented in cooperation with Prof. Enric Olivé Serret, UNESCO Chair of Intercultural Dialogue in the Mediterranean in the center of the main entrance foyer of the liberary, which placed it in front of practically all of the visitors.
The opening ceremony was attended by His Excellence Sheik Ahmad al Siyabi, undersecretary of the Ministry of Endowments and Religious Affairs, HE Hilal Al-Maamary, Ambassador of the Sultanate of Oman to Spain, Vice Rector Sra. Anna Ardévol, Prof. Enric Olivé Serret, and faculty, staff and students of the university.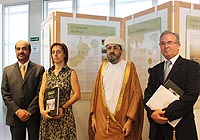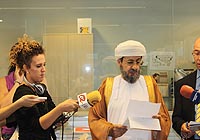 HE Sheik Ahmad al Siyabi elaborated in his speech that this exhibition on religious tolerance in Oman is to remind people and that the world's major religions do not tolerate violence, extremism and terrorism, and specifically forbid it; and that they are rather religions of tolerance, co-existence, understanding and dialogue.
He added that the aim of this exhibition is to showcase the Sultanate's experience in religious tolerance, which is a pioneering experience that has been largely welcomed and appreciated by a number of countries of the world, especially as the world is witnessing growing conflicts due to some incidents which were attributed to Muslims and non-Muslims.
Vice Rector Sra. Anna Ardévol mentioned in her opening remarks: "This exhibition, which begins its way through our land here at the URV, provides fundamental values ​​ in the international field to help improve understanding among peoples and thereby contribute to promoting the multiculturalism of the members of our institution and region."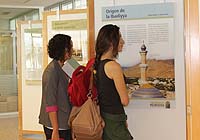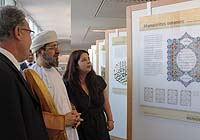 The supervisor of the exhibition, Director of the UNESCO Department for Dialogue Among Civilizations in the Mediterranean, Prof. Enric Olivé Serret delivered a speech in which he pointed out the role played by the UNESCO department in promoting dialogue and extending bridges of tolerance, understanding and peaceful co-existence.
He praised the role played by the Sultanate of Oman in the Gulf Region in the field of dialogue and establishing religious tolerance amongst peoples. He concluded his speech by thanking the Sultanate for providing this opportunity for students in Spain to acquaint themselves with the true and peaceful Islam. He affirmed that dialogue is the only way to understanding other cultures and civilizations.
Article Diarideta Tarragona (pdf) (Catalan)