VHS Nordhorn
January 21, 2011 through February 18, 2011


"Giving diversity a face" was the motto of the Volkshochschule (VHS) Bentheim/Nordhorn for the first half of 2011. The exhibition "Religious Tolerance" did fit ideally into this theme.
Fortunately, in spite of the inclement weather, more than 80 guests attended the opening ceremony on the evening of January 21, 2011. Following the welcome of Mr. Koop, Director of the VHS Grafschaft Bentheim-Nordhorn, Mr. Georg Popp, Secretary-General of the German-Omani Association, gave a lecture on the development of Omani society in the last 40 years. Subsequently the documentary film "Religious Tolerance in Oman" was shown.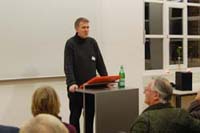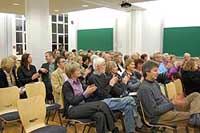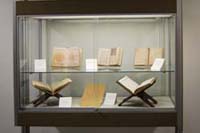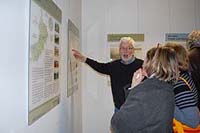 A few days prior to the exhibition's closing, Mr. Koop summed up the exhibition thusly: "Every morning when I go to my office I am greeted by this wonderful exhibition. I'm very sad that it comes to a close this weekend. Tomorrow I have two more tours through the exhibition with classes from the high school (gymnasium). All in all the exhibition has met with great interest, especially that of the religion teachers and their classes, but also with the visitors who made of point of coming here in the course of the day. ... It was your exhibition but it was a huge win also for me."