St. Philip's Centre, Leicester, UK
July 16th through 20th, 2012


St. Philip's Centre is a charity set up in 2006 under the umbrella of the archbishop of Canterbury and is rooted in the multi-faith environment of Leicester, the UK's most ethnically diverse city.
It has a superb track record of promoting positive community relations through dialogue groups, leadership programmes for young people, charitable activities and organisation of community events. St. Philip's Centre specialises in providing religion and belief training to public sector organisations and has received several awards in recognition its work to build bridges across communities.
In this respect, the Omani initiative to promote religious tolerance through an exhibition and related events was very much welcomed.

On Monday, July 16, 2012, Sheikh Dr. Abdullah al Mamari, lecturer in the Institute of Islamic Sciences, Muscat, gave a lecture on Ibadhism at St. Philip's Church. Ibadhism is the most widely practiced form of Islam in Oman. The official launch of the exhibition took place on July 17th in the presence of many honorables of Leicester; the Revd. Canon Dr. John Hall; the Director of St. Philip's Centre, Richard Brooks; the High Sheriff of Leicestershire; and the Rt. Revd.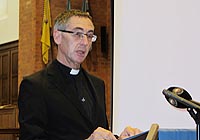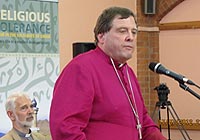 Tony Robinson, Bishop of Pontefract, who presented to the audience the following message from the Archbishop of Canterbury, the Most Revd. Rowan Williams:
"I am happy to convey my greetings as Patron of the St. Philip's Centre to all who are gathered for the opening of the Sultanate of Oman's first exhibition in the UK on 'Religious Tolerance'. I would like particularly to convey my greetings to the Grand Mufti of Oman, staff from the Omani Embassy in the UK and other leaders from the religious communities and civil society. It is good that this exhibition can highlight the vital importance of religious freedom in a world where such freedom is so often not respected. It is also good that the positive resources of the Ibadhi school of Islam and the tolerant traditions of the Sultanate of Oman in particular are given more prominence. I trust that the exhibition will provide a space in which mutual sharing and learning can take place. St. Philips is one of the foremost institutions involved in inter faith relations in Europe and a place in which all the rich religious and cultural diversity of Leicester is celebrated. May your gathering and the exhibition as a whole be a sign of hope and encouragement."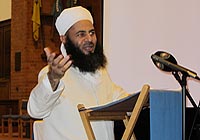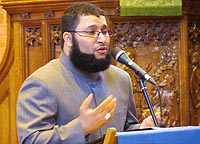 On July 18th the Omani singer and composer of religious songs, Anwar Al-Asmi, gave a concert at St. Philip's Church.
Article parish Magazine (pdf) English