VHS Offenburg, Germany
June 11, 2010 through July 31, 2010


The exhibition at the VHS Offenburg was opened by Mrs. Woerner, Director of the VHS; Mohammed Said Al-Mamari, Ministry of Endowments and Religious Affairs, and Mr. Georg Popp, Managing Director of Arabia Felix GmbH.
Prof. Dr. Feininger of the Pedagogical College Freiburg and Dean of the Institute for Evangelical and Catholic Theology, Religious Education, gave a lecture on the theme of interreligious dialogue.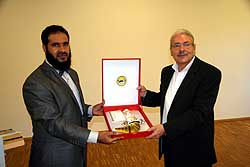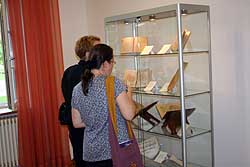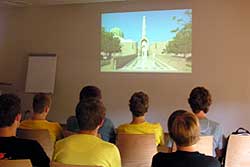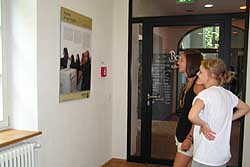 He expounded the following points:
- The necessity of interreligious dialogue based on the coexistence of peoples with diverse backgrounds and lifestyles;
- The greater context of interculturality in which the vitality of culture is evolving;
- Life needs diversity and room for development;
- The one and only God is reflected in that He approves of, promotes and values diversity;
- In contrast to some fundamentalist religious theories, which are restrictive and exclusive, God does not abhor diversity.
Download of the lecture in German language (pdf)
The exhibition was also visited by classes from 3 schools in Offenburg, with the intention of expanding the students knowledge of Islam. Each of the classes was treated to a private showing of the documentary film "Religious Tolerance in Oman."