VHS Wilhelmshaven, Germany
March 03, 2011 through April 08, 2011


Wilhelmshaven is the only port in Germany with access to the open sea. It was and is the main base for the German navy. The semester's theme of the Volkshochschule (VHS) Wilmhelmshaven was "Building Bridges". The opening in Wilhelmshaven on March 3rd of the exhibition "Religious Tolerance: Islam in the Sultanate of Oman" was certainly in the shadow of the violent events occurring in Sohar at the end of February, which were documented in the German media and which gave the general public the impression that mass revolts would also break out in Oman.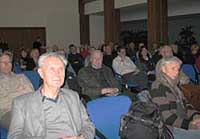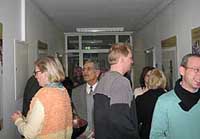 After opening remarks by Lord Mayor Eberhard Menzel, Imam Mustafa Kaplan and Werner Sabisch, the Director of the VHS, an introductory lecture was given by Mr. Georg Popp, Secretary-General of the German-Omani Association. The theme, "Oman: Sultanate between the poles of tradition and modernity" was followed by a 2-hour discussion about the (then) current situation in Oman, at the end of which everyone present went home with the realization that the circumstances in Oman are considerably different than in the rest of the Arab world.
Among the guests present were the military chaplain Christoph Sommer of the German Navy, who accompanies the marines on their tours of duty off the coast of Somalia, with the mission of containing piracy. He obtained numerous copies of the exhibition brochure and of the documentary film "Religious Tolerance in Oman" on DVD for the soldiers on board, who have regular shore leave in Salalah for rest and recuperation.
Article der Wilhelmshavener Zeitung vom 08.03.2011 (pdf) (Deutsch)