June 27 through July 4, 2013


Between June 26th and 28th the Omani sail training ship "Shabab Oman" visited the port of Hamburg in Germany.
On the occasion of this event the double exhibition "Sultanate of Oman: Modern Living with Tradition" and "Religious Tolerance in Oman" were shown at the Asia-Africa Institute of the University of Hamburg, thanks to an initiative of Dr. Mohammed Khalifa, with the support of the German-Omani Association, and the Omani Embassy in Berlin.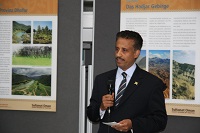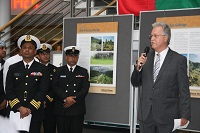 The exhibition was opened on June 27 at 6:30 PM by HE Khalid Ba'Omar, Ambassador of the Sultanate of Oman; Prof. Dr. Heidemann, Director of the Institute; and Mr. Bruno Kaiser, president of the German-Omani Association. The Shabab Oman's crew was also present, enriching the evening with a performance of traditional dances.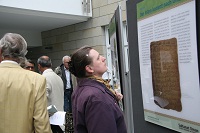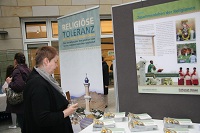 Documentation of the opening ceremony (German)